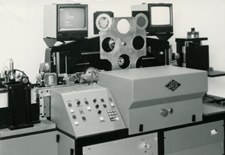 Our chief designer is John Bicht. This is a quick overview of his broad range of fascinating work of designing solutions to tough or unusual technical requirements for over 40 years.

From 1972 to 1979, he lived in England. During the first years he designed and built single seat Formula Ford and Formula Atlantic racing cars for DRL Engineering (Hawke) and himself. At Hawke he assisted David Lazenby. The later Atlantic project was his re-creation of a Lotus 69.
After leaving DRL he went to work for Ogle Design Ltd. which at the time was the largest industrial design company in England. There he was the sole mechanical designer - in charge of providing the same innovation in mechanical products as the other designers did with visuals. In the early days he conceived,designed and oversaw the construction of the complete mechanicals for several advanced electric vehicles commissioned by Lucas Electric. The work ran to 12 patents.

He also conceived,designed and oversaw the the crash protection structure for English Army Land Rovers.

The same for the emergency door for the then new Hong Kong commuter train.

Then a unique child seat belt buckle, truck cab structures, and much more.

He even designed a thing for the first STAR WARS movie. Ogle was making (not designing) stuff for the movie and it turned out that the front landing gear for one of the two good guy's fighter planes hadn't been designed yet. He did it. Visible for a few seconds in the background! Big deal.
After leaving Ogle..
He did a huge amount of R & D into micro-vibration and the problems of playing records.

Created a new exotic hifi component and sold the project to Mission Electronics. Named by them the Mission 774 Pick-up arm, it remains a hifi classic as far away as Russia.

During the time he wrote several technical articles describing the work.
Back in the USA in 1980
He continued the micro-vibration research - including novel measurement techniques -
and created a prototype record player.

1980 - 84 for Jade Corp.
Hired out of the blue by the Jade Corporation who was lacking a bit of innovative talent - he conceived and designed a semiconductor assembly machine of then outrageous performance (10,000 parts per hour - four times the then current technology). For a time he ran Jade's engineering department, and he started and managed Jade's computer machine controls department. As a result, he participated in all machine projects while he was there.
1996 for Versalab
He conceived, designed and built a new line of products for the photographic darkroom, including the PRINT WASHER and then the equally popular PARALLEL. click here to see them on this website

2004 for Versalab
John finished several years of fundamental research into extremely fine control of the espresso brewing process resulting in the Versalab M3 espresso machine. Two prototypes were built but at this time most of the world wondered why they wanted such a product.

Continuing with refining the espresso process, he conceived the remarkable Espresso PRESS.

And finally then the very wonderful Espresso grinder, the M3 now the M4.
1986 for his own company
Created the Versa Dynamics record players Model 1 and Model 2. With the latest upgrades these are still considered by some as the pinnacle of record players.

During this period he also built a 70 foot 4 axis television gantry for the short lived Gannet News TV program.


He later did considerable research into the problems of making CDs sound good. This eventually led to the next product creations.

1992 for Versalab

Another new company spun out of Versa Dynamics - Versalab.

Research showed that the RFI that came with digitial audio, and a massive amount of ambient RFI created considerable problems in sound quality. He conceived, designed and built a line of new products to alleviate the problems.
1984 working with partners

A new company, Versa Dynamics, was created to seek venture capital for a Robotics business. This never took flight. So a variety of contract projects ensued.

Co-conceived, designed and built a high-speed part counter for the AMP Corporation, plus several new machine concepts also for AMP.

Created new design concepts for Olympic Bobsleds but could not get the outside capital necessary. It was going to be a big project.